Turn on the television and you will see that Mosul has been liberated. This much-vaunted victory has cost 40,000 civilian lives. Some of the liberators have committed what is politely referred to in the western media as "extrajudicial killings" – throwing suspects off rooftops and running over them with tanks. Could this be a portent of the sectarian violence to come? If so, what future is there for Iraqi Christians?
The Church of the Immaculate Conception in Qaraqosh remains abandoned months after the town was liberated from Islamic State – Christians are too afraid to return 
Even with Mosul and the surrounding area wrenched from Islamic State control, the persecution of minorities, particularly Christians, has not stopped. During a recent speech in southern Iraq, Sheikh Alaa Al-Mousawi, head of Iraq's Shia Endowment, called Christians "infidels who must convert to Islam or be killed". We've come to expect this kind of rhetoric from Islamic State, but not from someone connected to the Iraqi government.
Sheikh Alaa Al-Mousawi (image obtained from YouTube)
In the north of the country, Iraqi Kurdistan is on the cusp of independence (a vote is planned for September). The semi-autonomous region currently shelters Iraq's displaced Christian community but will this continue to be the case once independence has been attained? If they are allowed to remain, will Christians be afforded the full panoply of rights, including the right to work and the right to health care?
Erbil, the capital of Iraqi Kurdistan
And what about Islamic State? Following reports about the death of its leader, Abu Bakr al-Baghdadi, will the  group collapse? The answer is probably not. Now it has been uprooted in Iraq, some have suggested that the group will become nebulous, that is to say it will scatter into the ether and spread its violent ideology where and when it can. In a sense, it will become more like its progenitor Al Qaeda.
Islamic State fighters annexed Mosul in the summer of 2014 – much of the city is now rubble
The future of Iraq and its religious minorities is more uncertain than ever. Sadly, western governments do not much care for the plight of Iraqi Christians. In America they are busy trying to deport them and the UK will only take 20,000 Syrian refugees, nearly all Muslim. Consequently, Iraqi Christians continue to languish in IDP camps or live as refugees in neighbouring countries.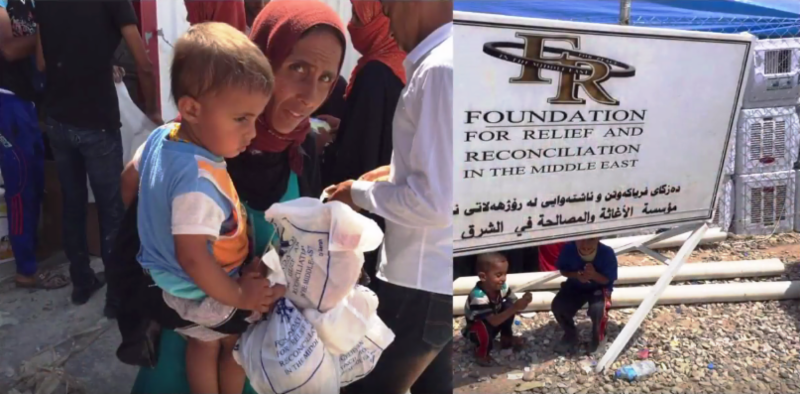 We have been feeding the displaced and dispossessed since the humanitarian crisis began
It is only Christian charity that is helping these desperate people. With your support, we are continuing to feed over 7,000 Iraqi Christians, both in the north of the country and in Baghdad, where we fully find a health clinic at St George's, the only Anglican church in Iraq. We are also feeding 700 Iraqi Christian families in Jordan. Please support our mission.
Making a donation
If you are a UK resident, you can make a single or regular donation via our website by clicking here.
American supporters can make a donation via our sister organisation, FRRME America, by clicking here.
Alternatively, you can make a donation to our humanitarian appeal by clicking here.
UK residents can also make a donation via text message by following the instructions below:
Thank you for your support,
The FRRME Team