In Iraq, ISIS recruited children. They called them the 'Cubs of the Caliphate' and ordered them to commit atrocities. Even after the fall of Mosul, the indoctrination of children by ISIS continues. Just this week, two Cubs of the Caliphate were filmed hacking the arms and head off a suspected "spy". Video of this gruesome murder was posted online. Sadly, many of these children are beyond rescue, their minds poisoned by extremist ideology.
There are three million internally displaced people in Iraq. Nearly half of them are children. In Jordan, many of the Iraqi refugee children we are caring for are still traumatised by their experiences. All of them fled their homeland under duress, chased out of their country by homicidal jihadis in black balaclavas. Many of them lost relatives and friends (some were executed, others are still missing). School is a distant memory, as is playing in the street. Like their parents, they live in limbo waiting for asylum to countries in the West. Despite this, the drawings these children have done in our English classes in Amman show love and hope.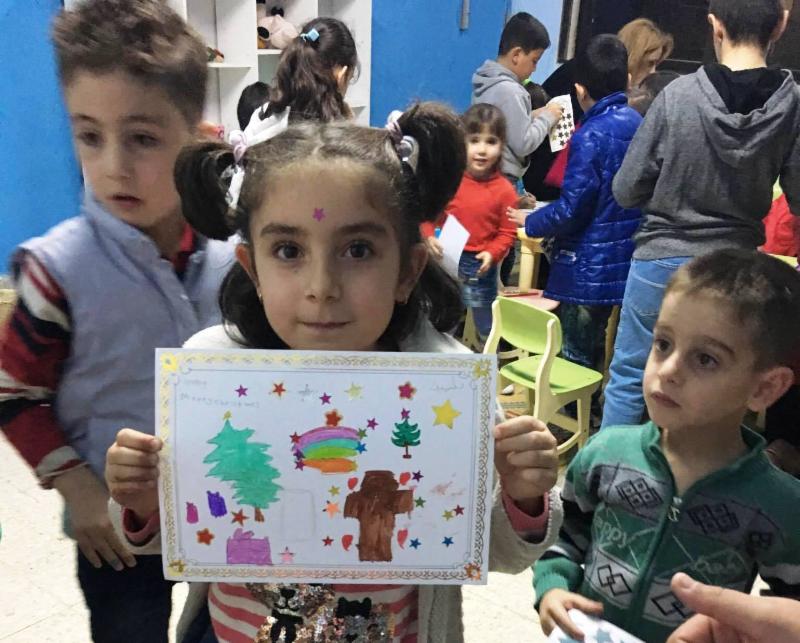 An Iraqi refugee girl holds up a picture she drew of Christmas
In Erbil in northern Iraq, where we are supporting a kindergarten which caters for 130 children, a small minority of Christians are tentatively returning to their homes in the Nineveh Plain. The Archbishop of Erbil, Bashar Warda, this week appealed to the US for more direct assistance for Christian returnees: "This is a just case, they are persecuted, they are marginalised and they are in need." In the meantime, those who cannot afford to rebuild their lives remain in Erbil.
Children and their teacher at the Um Al Noor Kindergarten in Erbil
Rebuilding broken lives is not just a material exercise requiring bricks and mortar, it involves healing the trauma caused by years of war and sectarian violence. With this in mind, we aim to launch a new trauma counselling project in 2018 working with partners who are specialists in this field. While we continue to provide Iraqi refugees and other persecuted minorities with much-needed emergency relief, we hope to also relieve them of their trauma so that they can move on with their lives.
Our first such project will focus on support for children, including trauma counselling in Amman. It is estimated to cost just over £20,000 ($27,000) in the first year. Any support you can give this project would be hugely appreciated.
To support our work, please click on this link to our website
 (there are numerous options for how to donate) or send a cheque made out to 'FRRME' to: 
FRRME, PO Box 229, Petersfield, Hants, GU32 9DL, United Kingdom
. American donors can make a donation to our sister organisation by clicking 
here
. Thank you!