I am delighted to join The Foundation for Relief and Reconciliation in the Middle East (FRRME) as the new Chief Executive. FRRME is a unique charity working with many thousands of Iraqis who have been forced from their homes and terrorised beyond belief.
Iraq has been in our news so much over the last few years that we may get anaesthetised to the tragedy and horror we see on our screens and read in our newspapers. The news has often focused on the war and all the political controversy about it, but the humanitarian crisis facing Iraq now looks likely to last long after the last shots have been fired.
The latest UN figures show that 3.4 million Iraqis have been displaced, with 11 million people in need of humanitarian assistance. In particular, over 1 million Christians have fled their homes as a consequence of the sectarian violence and under the threat of so-called Islamic State. This represents over three quarters of the Christian population of the Country! It is a crisis of truly biblical proportions.
FRRME has been at the coalface of this crisis for over two years now, providing emergency relief to thousands of displaced Christians living in Erbil, the capital of Iraqi Kurdistan, as well to many others living in internal displacement camps across northern Iraq.
I am passionate about leading our team to build on their excellent work and to help the Christians of Iraq to tell their story. Their voices have certainly not been heard strongly enough in the corridors of government or in our media.
For me, this is an exciting and unique opportunity after over 30 years working in the charity sector, mainly at CEO level. Over the years I have worked with all kinds of disadvantaged groups including homeless young people, drug addicts, the unemployed, families suffering from the effects of domestic abuse, and those struggling with huge debts. I have also worked across religious divides in Israel / Palestine, seeking to build bridges of understanding.
I am passionate about working with the FRRME team to develop our work across the Middle East and to truly manifest Christian faith and compassion in action.
Mike Simpson, 17 August 2017
This week in Iraq
It is a month since the battle for Mosul came to an end and revenge is rife. Rotting corpses have been seen floating down the Tigris, their hands tied behind their backs. Some are IS fighters. Some are civilian collaborators. Some are the victims of the (Shia dominated) Iraqi army, killed simply for being Sunni. How can we stop this cycle of homicidal retribution? What future is there for the Christians caught in the middle of the violence?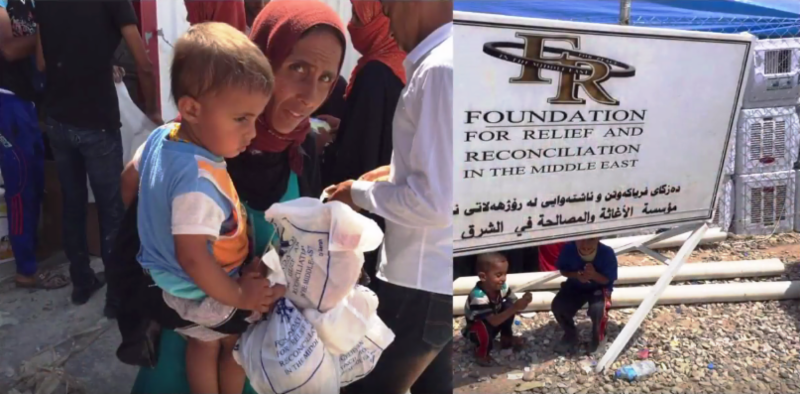 We have delivered emergency relief to 17 IDP camps across northern Iraq and Kurdistan
While a post-conflict settlement has yet to be agreed, the humanitarian needs in Iraq are greater than ever. We are continuing to provide emergency relief (food, water, medical supplies) to 7,048 internally displaced Iraqi Christians in northern Iraq and Baghdad. This includes 140 people at St George's Church where we fully fund a free health clinic. We also continue to support 700 Iraqi Christian families in Jordan. Currently, 50% of our total funding is spent supporting the persecuted church.
Dr Sarah Ahmed, our Director of Operations in the Middle East, 
feeds a young girl recently fled from Mosul
Our work is made possible by your generous donations. If you would like to support our mission helping Iraqi Christians and other persecuted religious groups, please see the giving options below.
Making a donation
If you are a UK resident, you can make a single or regular donation via our website by clicking here.
American supporters can make a donation via our sister organisation, FRRME America, by clicking here.
Alternatively, you can make a donation to our humanitarian appeal by clicking here.
UK residents can also make a donation via text message by following the instructions below:
Thank you for your support,
The FRRME Team